I decorated my mobile home screen very amazingly by using this best launcher, launcher name is wide Launcher, very small size app 18 MB only. After I applied all option wisely I got Fantabulous design, you can arrange everything app icons, with boxes like a foldable phone, really amazing option is I got, so today Iam introducing wide launcher. Once you install you can do amazing decorate your home screen. You will get 2 × wider screen on you current display.
Read:- Best Android Mobile home screen setup process
You can decorate with best color themes, buttons, frames, etc.
How To Decorate Our Mobile Home Screen Amazingly || Wide Launcher
To Decorate our phone with best designes we need a launcher, this launcher mainly giving editing option with wide range space no one understands expect you because you are a wide launcher user.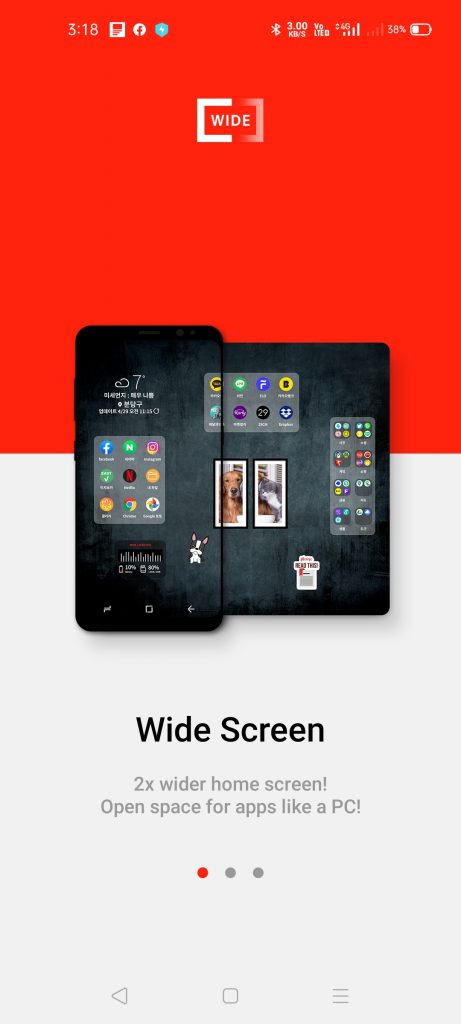 You must login with your gmail account, after sync this app with gmail you can save your designed automatically, once it saved you can use in any smart phons. Same design.
Wide Launcher
Download Wide Launcher

Best home screen decorate app

Home screen decorate launcher app

Wide Launcher app free
Summary
Best launcher app to decorate your home screen with best themes, colours, frames, stickers. Icon packs are amazing, next you can get 2 times increase display options. all in your hands. Some steps are ahead please complete and try it once.
Alot of features going to appear on the screen, as well you can re enable old launcher which provided by default.
Wide Launcher App Details, Download, Features
If you look at app details, app size and speed is pretty good. Next size only 18 MB. Category personalization, developed by the shouter inc.
Best design launcher app for android, really you can make best design, this app contains PC screen features. You can get wide range screen with separate options. You can edit anytime, apply pets on screen. One time design settings, you save long time with gmail connection.
Must add gmail account to wide range launcher. Extremely interesting app for android.
First Download app.
Once you install app you can setup wisely with your own designing skills.
Features Of Wise Launcher App
Double wider screen like Computers
Free themes, stickers.
Hundreds of free frames.
Version 1.1.73.
Download, share theme option.
Scrolling, page brake buttons.
Special icon packs.
Attractive look.
Free of cost.
Please give your rating of this launcher, your designs, etc. Don't forget to leave app rating.