How to recover deleted images :-
We often come across situations where we unexpectedly delete precious images, videos, and more data. However, it takes a lot of time and effort to bring them back intact. Though there are hundreds of apps available on the internet to help us restore the deleted data. However, not all of them bring back the deleted files.
Get Back Your Deleted Data, Images Or Documents, ULT Data App, New Way
We, in this post, explain about the UltData app helps you restore the deleted files with no effort at all.
Our previous method on recovering deleted files, using android phone, if you want know, look once.
UltData is an amazing Android app that helps you restore your deleted files including images, videos, and WhatsApp files from your device. UltData is used when files are deleted immediately.
How do you get back the deleted data with the UltData app?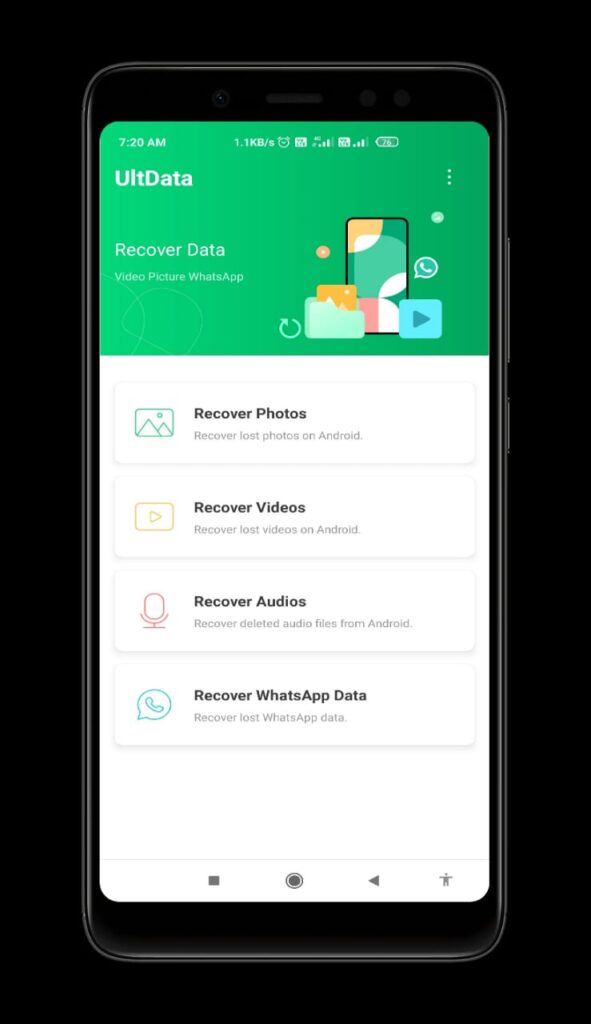 Choose the features when you open this app, and this app will scan all data on your phone within seconds and show the scanned data with accuracy. You can choose the files to restore them from the deleted files.
How To Recover Deleted Images, Files? How Does UltData work?
UltData primarily scans your mobile device for identifying the deleted images, videos, files, and more. After identifying the deleted files, it displays the deleted files with size, data, and file types as well. It asks you to preview the deleted files to ensure that you get deleted files back.
At last, it recovers the deleted files like photos, videos, WhatsApp messages, files, documents, and more.
The best part about this app is its availability in several international languages like English, German, French, Arabic, Japanese, Chinese, Italian, Portuguese, and Spanish.
If you don't have PC also you can recover, use your android phone install recommend application, start recovering.
ULTData App for files Restore Deleted Files, Download App
One thing you have to bear in mind that this app can't assure you of 100% recovery of lost files. You can download and make use of the desktop version if you are willing to employ UltData. Download ultdata application.
In addition to images, videos, files UltData brings back audio, WhatsApp chat data. It's a user-friendly app. Tenorshare Co Ltd has developed this app. It works on Android 4.4 and above version. Over 50k users have installed it.