How to reduce image size without losing quality? Cram is a fabulous app to reduce image size up to 60% and more without losing quality. Install the cram app on your Android phone to check the results now. You can compare both original and compressed image quality. It's a simple and less size application.
Are looking for best app to open all documents
Best App to Reduce the Size of a Picture in Mobile
This app providing so many advantages to save our phone storage and internet data. You can take this app help in many ways, if you know how to use this app properly. To know about how to works this app, check our tutorial once.
Cram is an offline and online photo size compressor app. This app can reduce JPEG, PNG, etc format images with the same quality. Bulk image selection saves your Time flamingly.
Cram app working excessively to decrease jpeg, PNG image sizes mbs to kbs, large camera images size to less size.
Turn on Auto reduce option and save more space when you capturing with mobile camera. Normal user can reduce 300 images only, pay 250 rs and get unlimited reduce option lifetime. flamingly options attached in this app.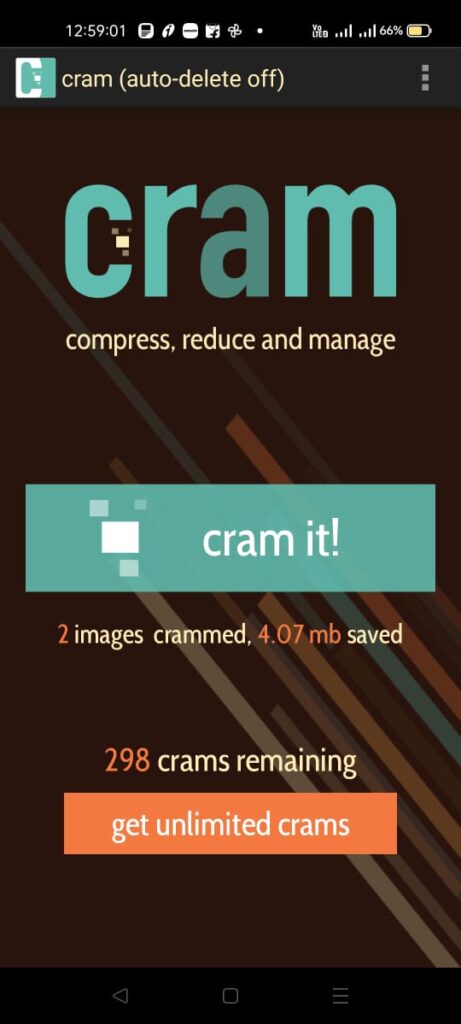 Main Features Of Cram
Turn on Auto reduce to camera images.
Auto delete originals
Auto delete large original files.
Monthly, weekly reduce report.
You can save more space.
You can send less size image without drop.
You can send more imges through Gmail.
You can use this app while upload documents in any website or in job applications.
How to Use cram resize image app?
To use free version no need any registration or login. Just upload single image or bulk images. You can keep original or delete instantly from this app. Share option also here.
Developed by Accusoft corp. Size only 3 MB. Version 3.8.
Click here to get the app.
Please like and share this page with your friends. One of the awesome application.